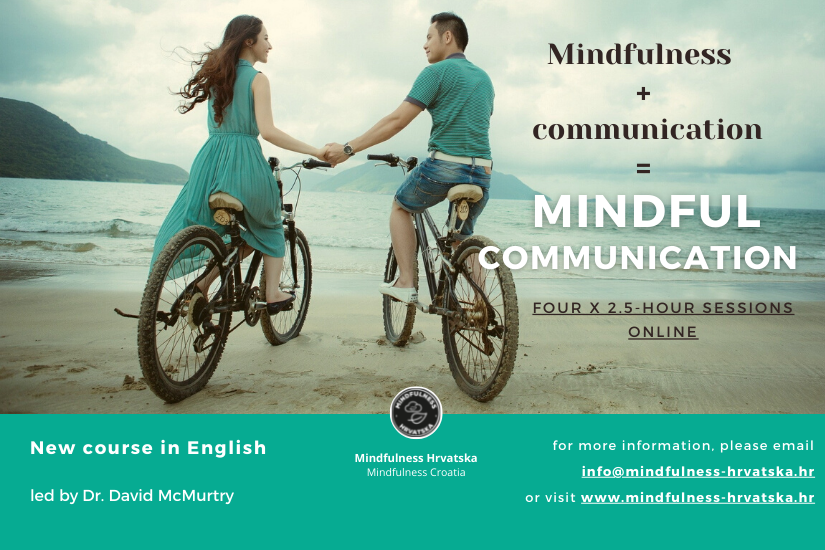 Mindful Communication Online Short Course
Everything we experience is through our mind, and mindfulness, therefore, can potentially change or enhance anything and everything. Our communication is also at the heart of everything we do. How we talk, listen, and write, is so important to our interaction, our relationships, our effectiveness, and our well-being.
Mindful Communication is an interactive, practical course to introduce you to communicating more mindfully. It is led in English.
Previous course participants have said,
"This course gives you the opportunity to think deeply about the way you communicate, gives you examples of mindful communication and its benefits but leaves it to you to explore what happens in your life when using information presented to you in this course. The key benefit of this course is an opportunity to work and talk about these techniques in a small, open, and accepting group of people."
"I liked the specific and concrete rules/steps/suggestions/pieces of advice about how to communicate mindfully and the activities during the course where we could try the techniques out."
"Group meeting every other week was great to enable a space for learning and practicing in between."
"Great online event, very well managed and led."
"The group was wonderful, and the teacher was creating a safe learning space for all of us. I am truly grateful for that."
"The course was eye-opening and really helpful, great list of literature to read more about it."
"The lectures …. and joint conversations (all together) were so helpful and derived from the real life situations."
"I very much appreciate the opportunity to enroll in this course and so grateful for that."
We are planning to run the course on this occasion, at a time that may be more suitable for people who find it difficult to meet in the evenings. This timing will also be better for people who wish to participate during their working hours.
Mindful Communication involves 4 live online sessions of 2.5 hours, every second week, giving us time to apply our learning in our everyday communication and conversations.
The course is taught in English by Dr David McMurtry. David has practiced and studied meditation for many years. He is a co-founder of the MSc in Studies in Mindfulness at the University of Aberdeen and was the Programme Director. He has taught mindfulness in Zagreb since 2016, where he now lives. He is also a co-founder and Past President of Mindfulness Hrvatska. David has successfully taught mindfulness in an academic environment, including at both Masters and Doctoral levels, and also in the community, accredited by the UK Mindfulness Association.
50% reduced fee for this course is €90 (678.11 kuna, €1=7,53450kn), for everyone, whether already registered or still to register.
Course includes:
    4 sessions and 10 hours of live teaching
     written material (PDF) for each session
     weekly follow-up communication practices and activities
     online and email tutor support
     course completion certificate.
The course will meet on (all Tuesday at 10:30-13:00):
07.02.2023; 21.02.2023; 07.03.2023, 21.03.2023. 
However, if any of these dates or times are not convenient for you, and you wish to participate, please still register. Once we know who is participating, we can do some problem solving and try to find a time and dates that work for us all.
For more information, see our course webpage. If you have questions or you require more information email [email protected]
To register for Mindful Communication, complete our online registration form.